All-in-one
virtual studio

and 3D graphics software

Our virtual studio software enables you to create high-end, real-time 3D virtual studio environments on a budget .

Aximmetry's node-based editor can be molded to your specific project to grant greater flexibility in bringing it to life; be it broadcast production, virtual event, pre-visualisation, LED wall based virtual production or any other 3D graphics task you can imagine. Aximmetry also has its own advanced chroma keying technology which is included in all of our software licenses.
Pricing starts from
free
Register at our website to access your free trial licenses. The Community Edition is a watermarked version of our Studio Edition and it is for an unlimited period for non-commercial use. We also provide free limited period trials of our Professional and Broadcast licenses after registration.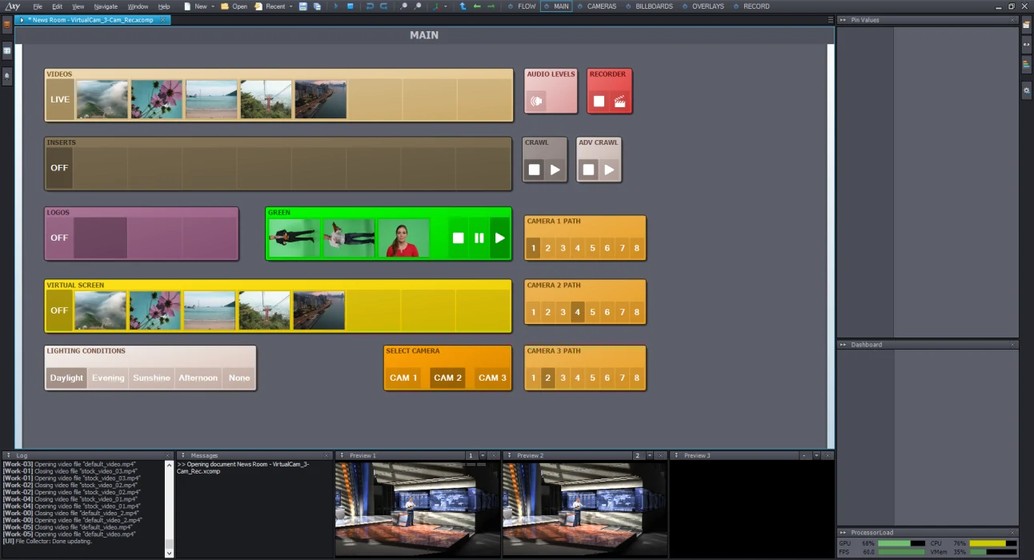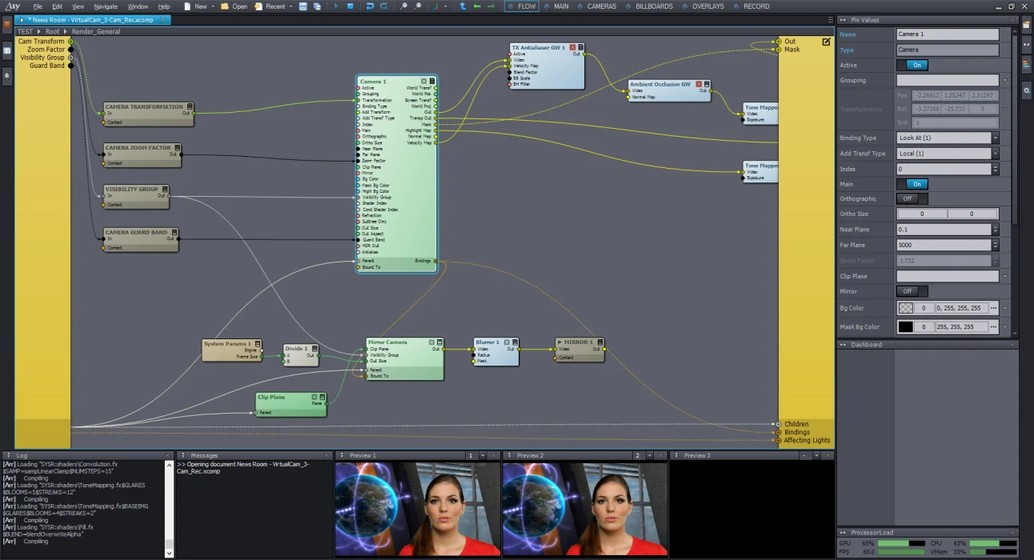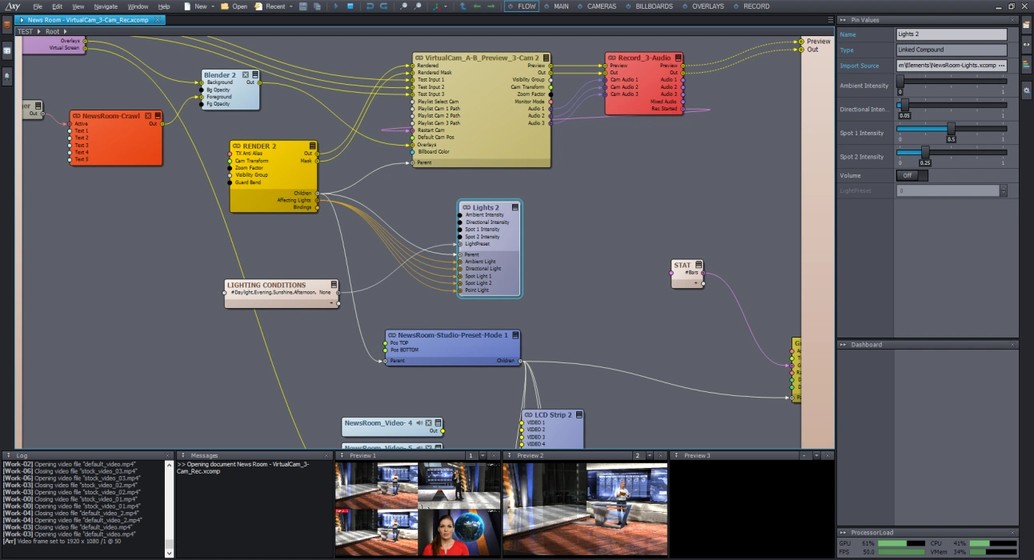 Content creation and render engines
The core of Aximmetry software is our own 3D render engine that can be programmed through a highly flexible node-based user-interface. On top of this core, we have built specialized applications targeting the fields of broadcasting, stage performances and presentations. In addition to this, we launched the Aximmetry DE (dual engine) product line, our new applications featuring Unreal Engine as well. The choice is yours which render engine you pick for your needs. All our software exploits the abilities of today's graphics hardware: for example, a virtual studio interior can be rendered in a previously unseen complexity and visual quality. When used on a stage, the projected visuals can be real-time generated 2D or 3D imagery, therefore they can be interactively shaped by the performer. Customized intuitive control interfaces can be created for the needs of presentations and video installations.
High-end tools to create
2D/3D
ART
for the broadcast, entertainment
industries, corporate video creators,
cinematographers, esport broadcasters,
streamers and vloggers
All aspects of advanced broadcast presentation are covered. Our software empowers you to create stunning graphic content plus it has all the virtual studio functionalities you need for the construction of interactive scenes and effects with virtual lights, virtual camera movements, and Augmented Reality.
Advanced 3D graphics: HDR, Depth of Field, shadows, reflections, refraction
Real-time 2D/3D rendering, post-processing, effects, chroma keying
High level of interactivity and real-time controllability
Highly flexible node-based graphics programming interface.
Aximmetry's feature set developed specifically for broadcast: advanced keyer, channel branding tools, crawl, mixing and many more.
Opening and running your UE5 scene in Aximmetry DE should work right away. During production, Aximmetry can send all information, be it text, images or events to your Unreal scene
Construction of interactive scenes / effects using a node-based logic
Open system to integrate any studio camera tracking device
All-in-one solution: No need to buy separate modules and extensions for chroma keyer, 2D graphics, 3D virtual studio, video wall display, projection - the software includes all of them
Scalable: multiple video cards or hardware can be operated under one system, each assigned a different task
4K - SDI input / output
Supports audience interaction via second screen devices
Receiving depth information for realistic mixing of real and virtual elements
Stage Performances

& Interactive Installations
Multiple simultaneous video outputs to monitors, projectors, LED walls etc.
Mapping: projection onto complex surfaces
Creating panoramic views using multiple projectors
Customizable on-stage control interfaces, touch screen control surfaces
Performer: a separate intuitive control interface for VJ performances
Controlling any event or effect parameter via touch screen, GPIO, OSC, MIDI, DMX/ArtNet
Controlling attached devices from Aximmetry via GPIO, OSC, MIDI, DMX/ArtNet
Automatic running modes for exhibitions / video installations
Included in all Aximmetry software
Material prototyping; full PBR pipeline
3D scene prototyping: built-in primitives, FBX and Collada import
Complex multi-material creation helper
Chroma keying
Video playback
Video conversion: format, resolution, color space etc.; from/to image sequences
Compositing videos and adding effects to them
Image/texture manipulation: format conversion, resize, tiling, color adjustment, color space conversion, layering
Simple texture generation: 2D drawing elements, texts, 2D effects, noise
Cube map handling: loading and saving to cross, strip or 6 face DDS formats; generating from 3D scene
Irradiance and specular environment map generation for PBR
Controlling GPIO, OSC, MIDI, DMX/ArtNet devices