Please note that this is a BETA version of the document. All information presented is correct but we are working on improving the details.
Introduction
The Camera Calibrator is included in Broadcast Edition and also can be purchased for other editions.
The Aximmetry Calibrator offers you 2 types of calibrations:
The Lens Calibration deals with lens distortion and calculates Focal Length.
The Tracking Calibration automatically calculates the Tracker's transformation and rotation.
The application has built-in guidance, no external How-To documentation is needed.
The Camera Calibrator currently supports the calibration of two types of tracking systems:


6DOF: 6 Degree-of-Freedom tracking systems.These are the standard tracking systems capable of providing position and rotation data.
PTZ: short for PTZ cameras.
Alternatively, you can also choose to use Aximmetry Basic Calibrator for calibration. The Basic Calibrator is included in the Broadcast Edition.
For more information on how to use Aximmetry Basic Calibrator to calibrate your PTZ cameras, please follow this link: Basic Lens Calibration (without lens distortion)
Calibration Board
To perform the camera calibration you will need two special images printed on a stiff board.

You can download the two images using this link: Calibration_boards.
Maybe you will need only the big checkerboard (the one with 5x5 cm squares) for the calibration process, still, we recommend printing both of them to have all the equipment possibly necessary for a successful calibration.
Aximmetry Camera Calibrator in use with the camera pointing to the calibration board on a chair: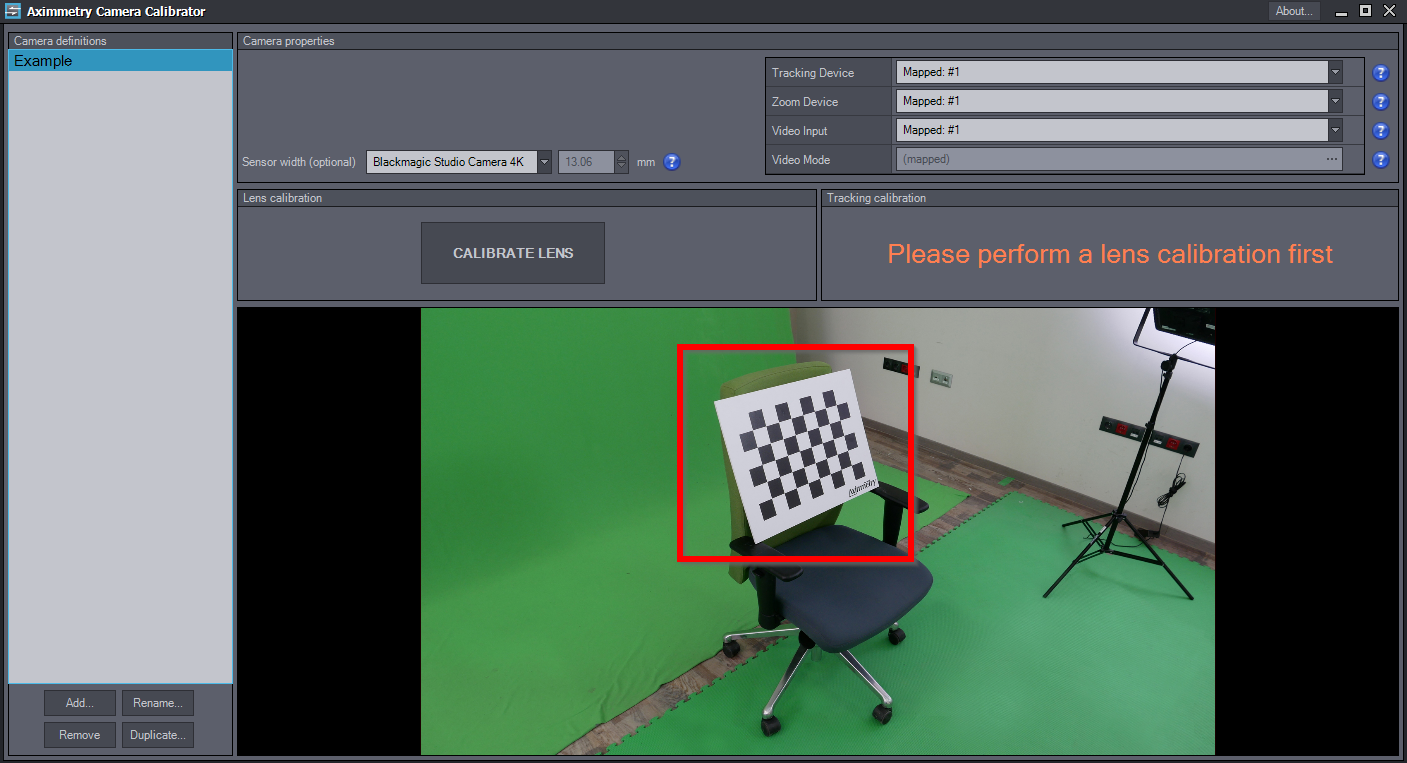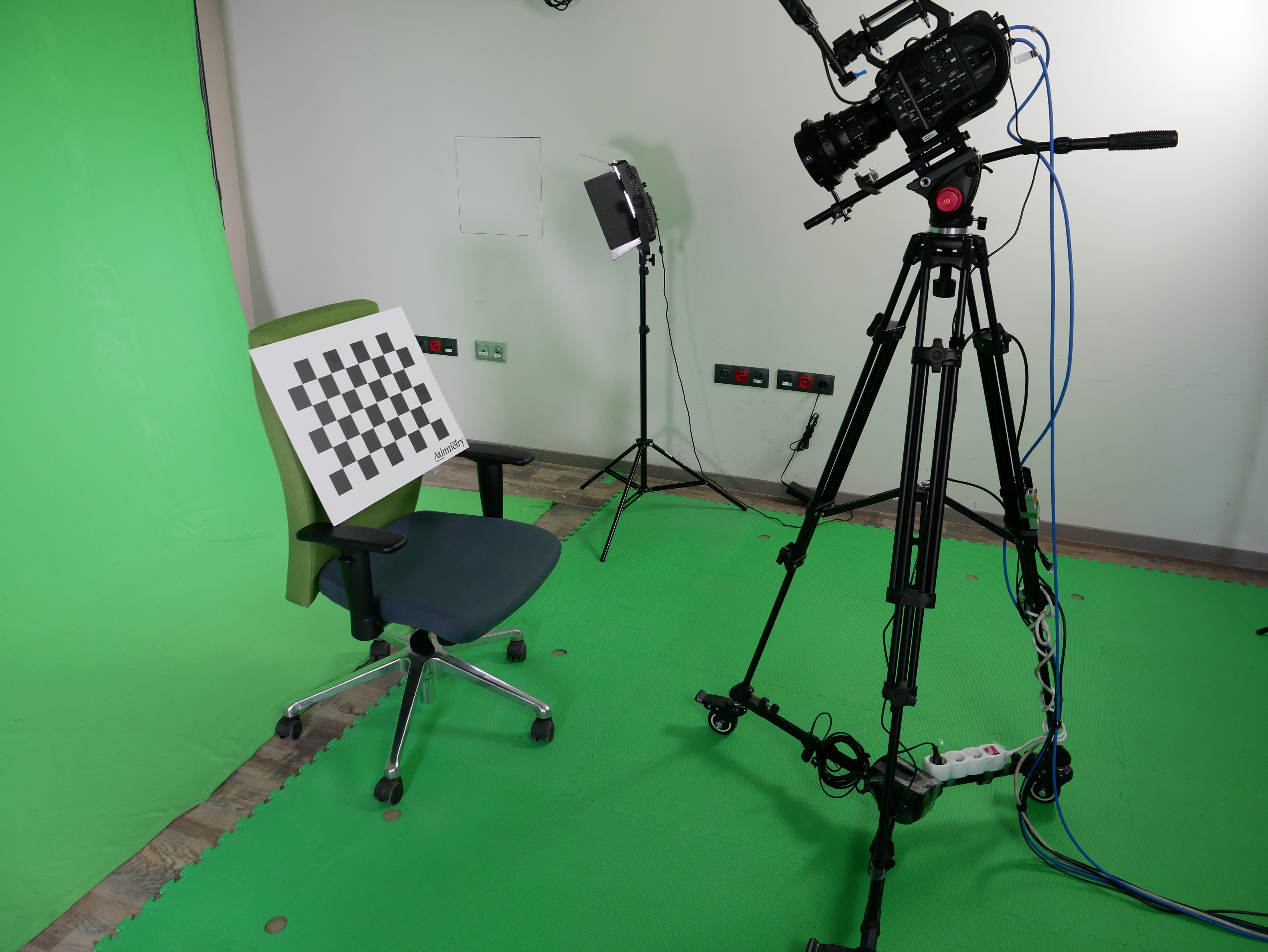 Recommendations
We recommend you use your local printing service.
We use a 0.5cm thick foam PVC board. The size of the board is 55x40cm.
The print should be extremely precise with at least 0.1mm tolerance.
Please note that the images are in a format designed for printing services so there are margins around the actual image.
You can use two separate boards or you can use two sides of one board. Although not every printing service can print on both sides.

On the actual final board, you should see a checkerboard pattern with 5x5cm squares and one with 2x2cm ones.
You should check in the final print if the size of the pattern is correct. Even if the printing service is precise there can be a miscommunication about the absolute size of the table.
Buying the Boards from Aximmetry
Alternatively, we can send the board to you. In this case, we would ask you to pay the shipping and production costs of the board.
If you want to go for this option please let us know at sales@aximmetry.com and our Sales team will send you a cost estimate.
Starting Calibrator
If you are using the Broadcast edition of Aximmetry you will find the Camera Calibrator under Aximmetry SE / Aximmetry DE in Start Menu.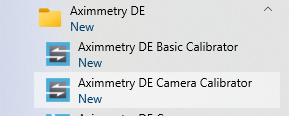 If you are using Professional or lower Edition and purchased the Calibrator you will find it under Aximmetry Calibrator in Start Menu.


The Startup Configuration screen is similar to the Composer. Define your outputs.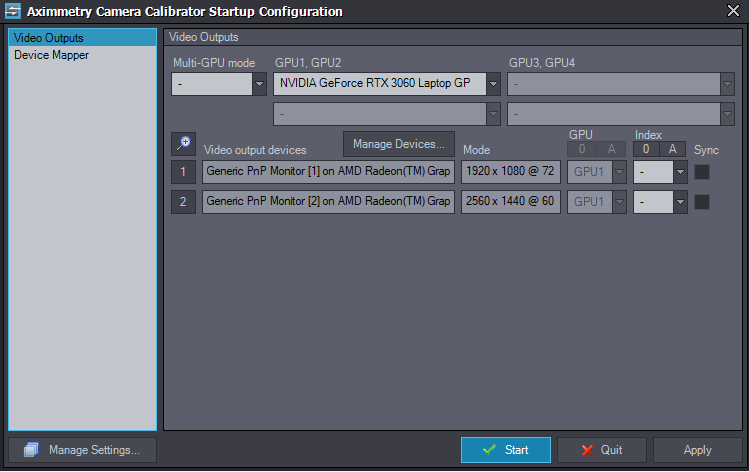 Note: We recommend not to map your tracking devices here but choose them later.
Then you must Add your first Camera Profile.
As you can see the Calibrator has presets for many cameras. If your device is not listed choose Custom, and type your camera sensor's width.
Now you must set your Tracking Device and Video Input. Setting up Zoom Device is needed only if you use a stand-alone zoom encoder device.
After clicking on Calibrate Lens the built-in guide will help you pass through the process.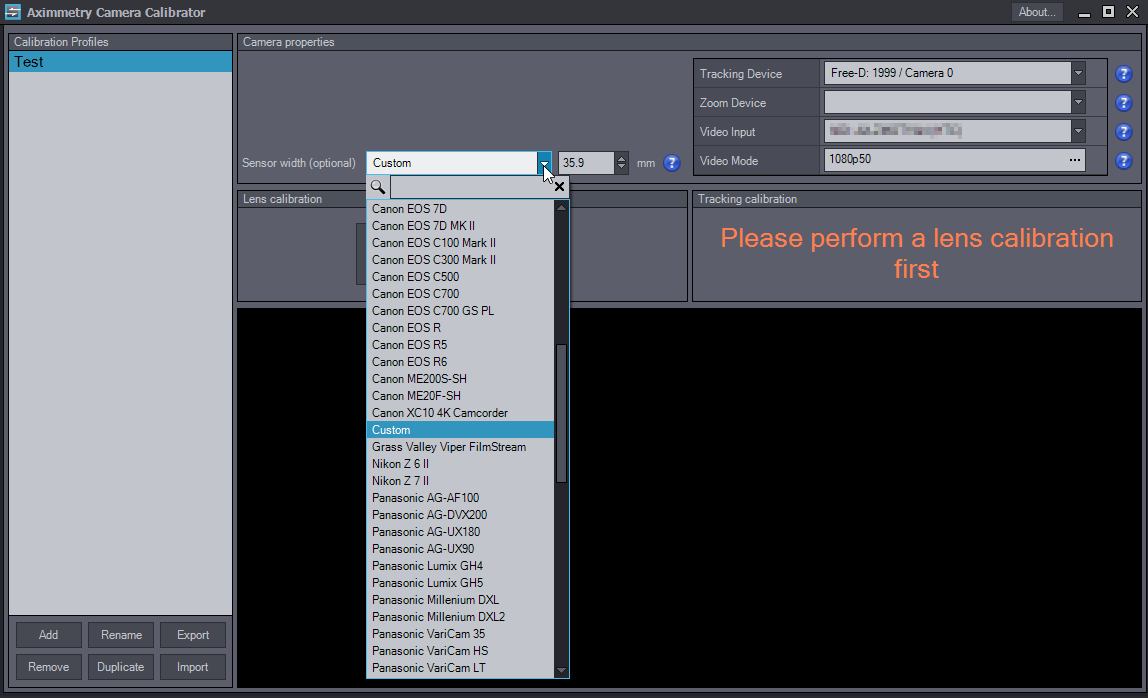 Applying calibration results in Aximmetry Composer
When using Tracked Camera compounds in Aximmetry, go to INPUTS Control Board. Select INPUT 1 panel and set up your Camera device, Tracking Device, and select the camera calibration in the Calibration Profile.